What does the fox say?
~singing~ Hello everyoneee!
Better late than never, right? Today I actually have several things to say, but I am quite happy with what I did!
---
Day THREE - 22/06/2016
Time spent coding: 1h30min! I am controlling more to NOT spend more than an hour on things.
Task(s) done: Change the basic Ghost layout!
[Programming in movies vs Programming in real life]
The blog looks so lively now, I am so happy. There is still lots of bits missing, and this now was more a tweak for the time being so I can start a future theme from scratch.
I must say I am quite picky when talking about blog layouts. I am an old school on that. I like two columns layouts, one with info and the other with the blog post lists. People just don't seem to be into it anymore. Anyways, I always try to go for something my dear friend Kerri would go for. I love her layouts, she is just amazing.
So I took a flat design that exists for Ghost, caled GoClean. It was more or less how I was designing Song Bits before, on Wordpress, so it was a win situation. I had to do a lot of tweaks on colors, social icons (the person was using images for the social icons instead of webfonts. What is the logic?) and a bit of cleanup on css code.
I love how Ghost does it's layouts with Handlebars. It is so easy and simple.
So, on to next, I am creating a page to display small goals or projects I plan to do on this challenge, as soon as it is ready it will be on the top menu. Please comment if you have any ideas on code thingies!
---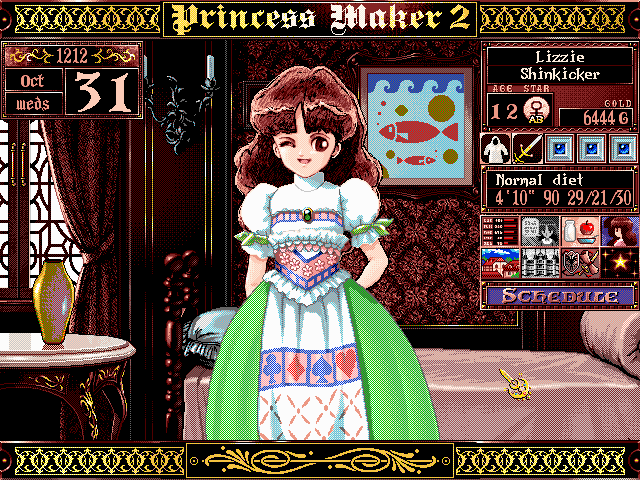 Aside from code tasks, I spent most of my evening playing the old lovely game Princess Maker 2, with the goal to be the Queen. I already made my daughter hates me, but at least she has 90 on her Art skill! :D
For those who don't know, Princess Maker is a japanese game series about raising a young girl from 10 years old to 18. Depending on how you manage her schedule, your "daughter" can end in one of the 74 possible endings. It is quite funny to see all situations go with. It even has a small rpg mode inside!
And looking into that game, I just remembered how I love this game art. And there is SO MANY ASSETS. I just... Need to use this for something. Either for creating an HTML5 version of the game or creating a small community where you can be the girl and gain skills and and.. I don't know. Give me ideas ;3;
Guess that is all for today!
See you all tomorrow! x]
---